Eaton Locking Differentials
used in 2001 GM Trucks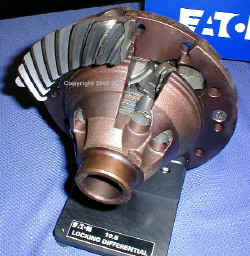 Click image to enlarge
Eaton 10.5" ring gear locking differential cutaway display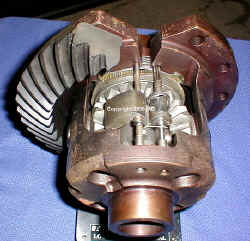 Click image to enlarge
Eaton 11.5" locking differential cutaway display

The articulation test, a Dodge and a Ford 4x4 with 'limited-slip' [also sometimes referred to as posi] differentials are also used to show the difference of the Easton locker in the GM trucks. A ramp is used on the left [driver's side] so the right rear tire will start to loose traction.
The Dodge was up first an lost traction and spun / smoked the right rear tire.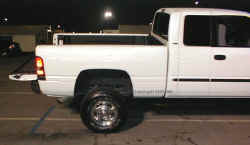 Click image to enlarge
Dodge 4x4 Ext. Cab, after it spun the tire, note the rubber pieces behind the tire
Then it was the Ford's turn, that truck was even worse.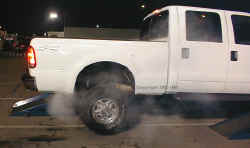 Click image to enlarge
Ford 4x4 Crew Cab as it spins & smoke the tire as it losses traction
Finally the Chevrolet, is would barely slip and then the clunk of the locker locking in and up the ramp it went.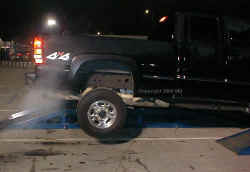 Click image to enlarge
Chevrolet 4x4, all the way up the ramp after the Eaton locker 'locked in', the smoke in image is only exhaust. I was quite impressed by this demonstration.