IMPORTANT MUST READ NOTICES are Highlighted
MAIN

Pictures of our 6.5TD truck
NOTICE:
About
Discussion
Forums
Scroll Down for Duramax info & items

Recommended
Products for
the GM 6.5TD
Gauges
6.5 Dash Mounted Adjustable FUEL Control
Transmission Control 4L80E
6.5 TD Performance Cool Air Intake
6.5 TD Turbo Downpipe
______________
COOLING:
WATER
Mist Injection
Aftermarket
Fan Clutch WARNING
6.5 TD Intercooler
ADVICE
Dual Auxiliary Electric Cooling Fans
6.5 Hi-Flow Dual Thermostat Cooling Upgrade
______________

6.5 Oil Cooler Hoses/Lines
NOTICE and Upgrade parts
______________
Serious POWER:
______________

6.5 Gear-Drive
Timing Set
WARNING
6.5 Pistons, Low Compression, ADVICE
______________

Headlight Light Switch Saver and Light Intensifier
Oil Pressure Switch Saver
Ignition Switch Saver
______________
6.5 Stock Airbox
6.5 Stock Exhaust
___________________
Recommended
Products for
the Duramax
Duramax 6600 Performance
______________
The Magnus-Moss Warranty Act ______________
GM 2001 HD Silverado / Sierra Power Launch Tour
______________
1979 Pontiac Limited Special Edition Trans-Am
______________

Cool Air intake for the Duramax 6.6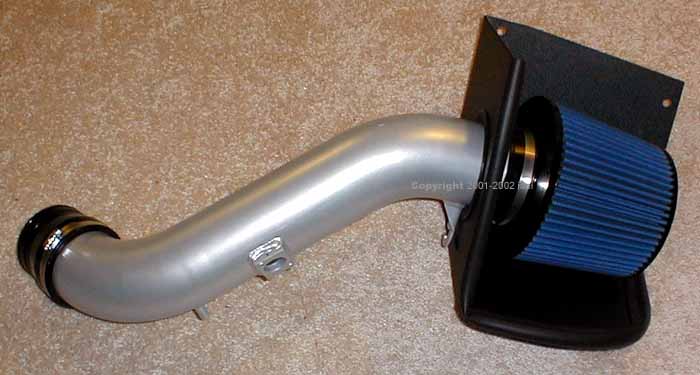 The stock paper air filter is quite restrictive and changing to a Hi-Flow Air Filter will allow the turbo to spool up easier and in most cases you will hear the turbo whirring as it pulls more air, with our Cool Air intake the flow is increased even more.
Allowing the engine to breath better will add efficiency and performance and should help increase mpg, provided you maintain the same driving habits, but sometimes it's hard to resist using the added power.
The Hi-Flow Cool Air intake for the Duramax 6.6 Turbo Diesel features a quality Hi-Flow air filter, custom powder coated intake tube and wall designed to keep the hot underhood air from mixing with the cooler outside air. Cool air makes for a better performing engine reduces power losses related to hot intake air temperatures.
This intake system is designed to flow much better than the stock setup and the Hi-Flow air filter has much more surface area allowing greater flow and more dirt holding ability.
MSRP is $399.95, order one now for Only $349.95

inquire today at a1customs@aol.com <