IMPORTANT MUST READ NOTICES are Highlighted
MAIN

Pictures of our 6.5TD truck
NOTICE:
About
Discussion
Forums
Scroll Down for Duramax info & items

Recommended
Products for
the GM 6.5TD
Gauges
6.5 Dash Mounted Adjustable FUEL Control
Transmission Control 4L80E
6.5 TD Performance Cool Air Intake
6.5 TD Turbo Downpipe
______________
COOLING:
WATER
Mist Injection
Aftermarket
Fan Clutch WARNING
6.5 TD Intercooler
ADVICE
Dual Auxiliary Electric Cooling Fans
6.5 Hi-Flow Dual Thermostat Cooling Upgrade
______________

6.5 Oil Cooler Hoses/Lines
NOTICE and Upgrade parts
______________
Serious POWER:
______________

6.5 Gear-Drive
Timing Set
WARNING
6.5 Pistons, Low Compression, ADVICE
______________

Headlight Light Switch Saver and Light Intensifier
Oil Pressure Switch Saver
Ignition Switch Saver
______________
6.5 Stock Airbox
6.5 Stock Exhaust
___________________
Recommended
Products for
the Duramax
Duramax 6600 Performance
______________
The Magnus-Moss Warranty Act ______________
GM 2001 HD Silverado / Sierra Power Launch Tour
______________
1979 Pontiac Limited Special Edition Trans-Am
______________
POWER BOX for the Duramax 6.6 Turbo Diesel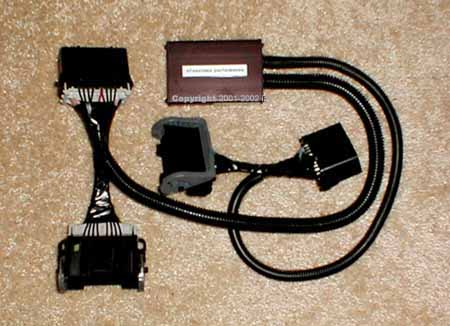 Key Benefits:
Easy Plug and Play installation


4 Power Levels to choose from


Adds up to 90 Horsepower! and 250 lb. ft. of Torque!


Monitors transmission and adjusts power if needed


Safe to use while towing


Excellent Low to Midrange power where you need it most, added High end power too!
Only $849.95

inquire today at a1customs@aol.com
Disclaimer: This product can adjust performance levels beyond factory parameters, so it's use could possibly void your warranty, due to these facts buyer accepts all responsibility for it's use, and his/her actions, there is no warranty either expressed or implied as to use of this product. Due to the additional performance this unit adds it can possibly cause higher EGT [exhaust gas temperature] of which can be detrimental to the engine or other parts, this can be monitored by using an an EGT gauge and is recommended, if higher EGTs are noticed the boost then can be reduced using the controller easily and safely from inside the truck. The Magnus-Moss Warranty Act prohibits a dealer or manufacturer from voiding your warranty unless a product is directly responsible for a failure.